Now, I know what you all are thinking after reading the title: you are thinking "
what?
". Half of you, the American half, will probably wonder why I should fall in love with s'mores at 37 years of age. The other non-American half will be saying "
what the hell is a s'more?".

Simply put, s'mores are one of the best things that America ever invented. There is no other way to put it. It sits below the hamburger in the scale of things simply because I don't have such a sweet tooth, but man, are these things good! And I don't understand why they haven't been exported to the Old Continent.
According to wikipedia
, s'mores are a
traditional nighttime campfire treat popular in the United States and Canada, consisting of a roasted marshmallow and a layer of chocolate sandwiched between two pieces of graham crackers.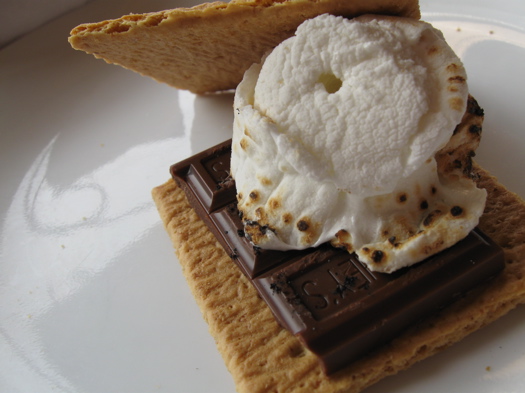 Careful - this thing can turn you into Gollum shouting my precious...
Basically what you do is you put a marshmallow on a stick (do you remember the
US obsession with food on a stick?
), you stick it in a camping fire, or - failing that - on a barbeque. When it starts to melt, you put it in between two crackers with chocolate, and you have bought yourself a ticket to paradise.
If your mouth is not salivating by now, you have no heart.
Indoor s'mores. Pretty ingenious
I had never tried s'mores. Hell, I had only tried marshmallows on a couple of occasions while traveling to the US (you do find marshmallows in the UK and in Belgium, but not in Italy). I wasn't a fan: too sweet for me. Although I still remember that marshmallow milkshake in a San Diego diner many years ago...
But s'mores? OMG, give me more! They are addictive. I had them the other night, indoor, in a place that serves you all the things you need to roast your s'mores while sitting on a sofa. I only had two...and I could barely contain myself from turning into Gollum from the Lord of the rings, jumping on the table, swooshing away the friends I was with while shouting "w
e needs it...we wants it...must have my precious
".
The Tuscan Foodie after tasting s'mores for the first time
My wife tells me that you can put a reese peanut butter cup instead of the normal chocolate. And somebody told me that there exists a version with nutella.
I am drooling even as I type these words...too bad summer is over.