Every Italian in his thirties and twenties grew up eating Nutella. And if he says he didn't, he is either lying or a very sad affair (we won't even talk about Italians who claim not to like Nutella, because they don't deserve any of my time).
When I was a kid, sugar wasn't considered poison (I remember afternoon breaks where my only snack was a slice of wet bread with half a cup of sugar on top...and I never had a cavity until I was 35), so nobody cared that sugar was the first ingredient of Nutella. And Ferrero - the maker of Nutella - never marketed Nutella as a "healthy breakfast" alternative, like it is doing now in the US. First and foremost because nutella is seldom eaten at breakfast in Italy...Secondly because such a claim in Italy would have been stupid, whereas in the US - where a stack of 8 pancakes with 1/2 cup of maple syrup is considered a legitimate breakfast - you can see how Nutella's claim can start to make sense. Everything is relative, after all.
Anyway. I have come across many recipes for home-made "nutella". All of these recipes have one huge problem: one
cannot
simply make Nutella at home. It is as simple as that. Anyone who tells you that their home made Nutella tastes exactly like store-bought nutella is a liar or a fool (or perhaps he/she has never tasted the real deal).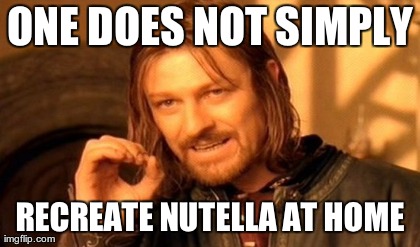 Now, what is Nutella? It is a specific version of
gianduia.
Gianduia is nothing more than chocolate (milk chocolate) mixed with hazelnuts, and can be under the shape of small candies (gianduiotti) or spreads. Nutella is extremely heavy on sugar and palm oil (that gives the creamy texture that I love), hazelnuts are only the third ingredient, and there is very little cocoa. There is a lot of
other BS
in it, as in any processed product.
Most of the recipes I have come across try to replicate the creamy texture of Nutella by using coconut oil or other oils. To me that's just nonsense. If you are in the right frame of mind and you accept the fact that
Nutella cannot be replicated
at home (do I really need to say this one more time?), you will choose a different route. You will then
not
end up with an oily grease ball (
but it's homemade!!!)
that has nothing to do with Nutella and tastes like shit.
Then what should you be doing? Try and not make Nutella, but make a gianduia spread.
I saw this recipe first on the magazine
Bon Appetit
. As every loser claiming to be making Nutella at home, they also claimed that this was better than Nutella, but at least they had the decency of admitting that it was very different. And in fact it is: there are no oils to deliver creaminess...it only lasts 4 days at room temperature and four months in the fridge, and it doesn't taste like Nutella at all: because it is just a very, very good chocolate/hazelnut spread that tastes like hazelnuts and chocolate, and has very little sugar, and some butter and cream. Flavor-wise, it reminds me a lot of the chocolate spread you can find at Pain Quotidien.
So, here is the photo recipe. Arm yourself of patience: the recipe is super easy, but peeling the hazelnuts is a pain. Also: I am using black chocolate because I love it. But really, you should be using semi-sweet.
You can see the photo recipe bigger by clicking
here
.